Cloud Services
Our up-time statistic is 99.75% including all maintenance windows and any outages, 24/7 hours a year. Excluding the maintenance windows, our up-time is 99.99%, over a 3-year period. Web systems are global, so they should not be down any time of the year. Hence we do not exclude the nights, weekends or statutory holidays from our statistics.
Small teams, big results: We engage with small, focused and highly experienced teams. You will  work directly with our engineers for the duration of your project. We offer flexible, aligned personnel for immediate requirements, while considering your long-term needs and direction. The result: successful projects at lower cost.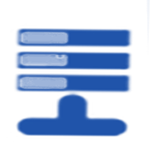 We supply:
IaaS: Server Rentals, our servers are running in Tier-3 datacenters
PaaS: Management of the web, database and related necessary servers such as email, VPN, domain controller, and virtual/host servers. We do this in either on our infrastructure at a data center or your premises.
Customized SaaS: Design and development of web applications and related database back-end, running on our infrastructure.
Private Cloud implementations
End-to-end solutions including customized coding, all hardware and infrastructure, management, life-time support for the solution advanced database/web systems administration for high performance and high availability requirements, and data communication and transfers between your servers at different locations.
Professional services to bolster your web system's availability, improve recovery times, and minimize data loss.
Hardware and infrastructure design to enable your web/database systems to run without any interruptions.

Koza's Cloud services will help you:
Increase systems availability, improve performance, decrease customer time loss, heighten customer satisfaction, raise sales revenue.
Reduce the costs of planning and implementing servers and necessary infrastructure. We have implemented a series of solutions for web applications with different load levels, and we already know which one will best fit your system.
Lower the cost of managing the infrastructure. Avoid the hassles of learning curves, scheduling of after-hours support personnel and staffing.
Gain access to expert system administrators, architects, DBAs, and developers.
Note: The Always-On Web Systems Management Service cost is based on your system's requirements. You will get a customized project plan and a quote after an initial analysis period.